Tango Milonga Private Tour in Buenos Aires
The night of a city shows its soul, and Buenos Aires has a Tango one! Let's discover together the beat of the Tango night in Buenos Aires!
The Tango is danced by locals of all ages and also by many foreign who specifically comes for learn it and upgrade their skills. For those who are involved in Tango, it is a fever, a passion, a religion, a way of living and this is the pulse we are going to find in our Tango Milonga night tour.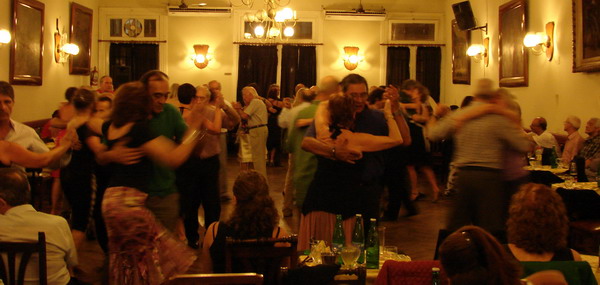 The events where the Tango people meet for dancing are called Milongas. Each Milonga has a different flavor, according to the kind of people who attend, so you have formal Milongas for mature nice people or shaky Milongas for younger couples. But at any Milonga there is the same language, the code you should respect to last in there, discrete gestures to invite to dance, to say yes or to refuse, codes for know when to still dancing or when to stop, small pressure of the fingers on the back of a lady for making her do intricate steps without even saying a word. That's the world to discover in our trip across two or three Milongas according to your rhythm and taste.
In addition to this private tour to the milongas, you have the option (is not mandatory, don't feel stressed) to take an early Tango lesson. Buenos Aires's night could be yours, Get ready for the Dance of Hugs! Book Now!
















Back to Suggested tours
Home
Go to Next Page (History Tour) 
Ask for a personal City Tour 
Customer References
Share this page with a Friend
Know more About Me
Important: This is a so complete and very useful site, don't lose anything, use the SITE MAP
...