Art in Buenos Aires
In this page I will be happy to share News about Argentinean and Buenos Aires Contemporary Art (as Classics too!). Argentina and specifically Buenos Aires is always at the top of Art in Latin America, this is the artiest city of the area. In addition to the complete collections at Malba (Museum of Latin American Art of Buenos Aires) or the MAMBA (Museum of Modern Art of Buenos Aires) or the Fine Arts Museum, we have wonderful collections and exhibitions at Proa Fundation or Fortabat Museum. The street art is also quite relevant and many times supported by the City or sponsored as a manner of impulse Culture. Buenos Aires rooms around 5000 monuments and statues of different styles, and although an usual complain, they are very well preserved and maintained.
The 110 years of Teatro Colon, the magnificent opera house of Buenos Aires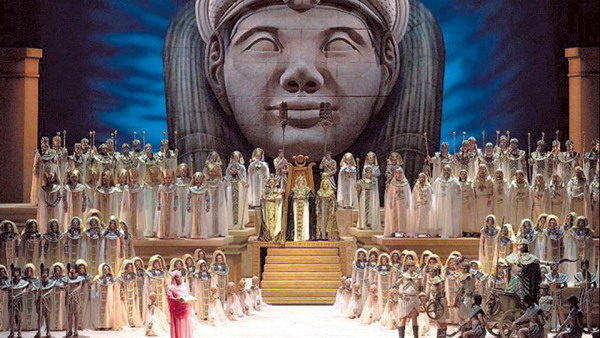 The wonderful Teatro Colon Opera House celebrated its first 110 years with a play of the first Opera done there: Aida, from Giuseppe Verdi. Originally played by Enrico Caruso, this season the staff is a local and international team, one more star for this impressive attraction for any private tour in Buenos Aires.

The Teatro Colon Opera House celebrated 110 years of its opening. In 1908 the date chosen was the same day of the Homeland: May 25th and it was world class event, with the starring of Enrico Caruso.

"The Teatro Colon is considered the largest opera house of the word, but much more important: In terms of acoustic, is the best place of the world for listening an opera and the second one for a concert."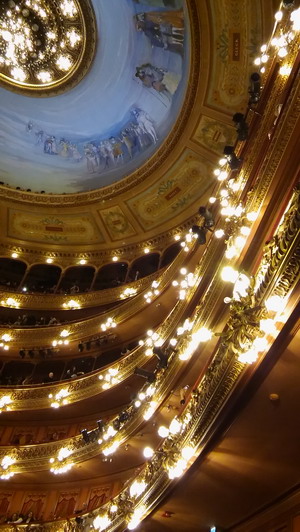 With a luxurious design, its ornamentation combines the best marbles (carrara, siena), the top steinglases (Gaudin) and gold leaf. The luxury is anyway submitted to acoustics and the combination of materials (hard and soft ones) goes changing according the floors to manage the echoes. There are other secret like little boxes under each of the seats, driving the whole venue's floor into a resonance box. These and many other secrets are able to be discovered in a tour to the Teatro Colon and in my private tours in Buenos Aires.

Yesterday the production shown again all the skills of the Teatro Colon manufacturing area, this opera house is one of the few in the world completely equipped to manufacture all the elements for its shows: From shoes and costumes to elaborated scenographies.

In the Aida of this season participates the three (yes three!) Stable choruses of the teather. The staging and direction are also local. Directed by Carlos Vieu, the local staff is Mónica Ferracani (Aida), Guadalupe Barrientos (Amneris) y Enrique Folger (Radamés) and the international Latonia Moore (Aida), Nadia Kristeva (Amneris) y Riccardo Massi (Radamés).

Teatro Colon as in one of my private tours in Buenos Aires, as visiting it by your own is a not to miss place in this amazing city.

References and Pictures
Article and pictures: Aida scenography: Pagina 12
View of ceiling and balconies Pablo Piera
The first ballet dancer of the World is Argentinean and born in Buenos Aires

Ludmila Pagliero is an Argentinean ballet dancer who received the "Benois de la Danse" award (equal to the Oscar award of ballet) at the Bolshoi Opera of Moscow, during the tour of the Paris Opera Ballet, the Company of dance for which she dances and of which it is outstanding star. This is the first time in the 300 years of history of the Paris Opera Ballet a Latin American dancer receives this important award. She started her professional education at the Teatro Colon, a not to miss place when you visit Buenos Aires

How could not be other wise, Ludmila Pagliero, started her dance formal education at Teatro Colon of Buenos Aires, with a prestigious teacher named Olga Ferri -The Teatro Colon is the most important Opera House of America, and one of the mecas for ballet, opera and concerts all around the world, is also a not to miss places and you can get nice stories about it during my private tours in Buenos Aires-

But her beginnings, her origins and her ascent in the world of the ballet are full of adventure and perseverance, in addition it becomes evident that Ludmila Pagliero is a gifted one.

From very modest origins (a dad electrician and mom massage therapist in a neighborhood of Buenos Aires) Ludmila was not "forecasted" for the ballet world, anyway as she insisted "I need to move my body" (Perhaps her aboriginal part of her roots?) her mom send her to ballet lessons, which were given by a very boring and exigent teacher. She quitted and tried jazz dance, but luckily her new teacher discovered her ballet skills and recommended to try with another teacher. This time, Ludmila enjoyed and surprised everybody. With only 9 months of experience, Ludmila Pagliero was admitted at the Teatro Colon, she was only 10. She uses to say that

"All my dreams as a dancer were born in this theater"

Unluckily the Teatro Colon was not offering vacancies since many years ago, but Ludmila was offered to dance for the Teatro Municipal, the most important teather of Chile, so there she was, far from home, no family (her parents cannot afford the staying there) and she become the soloist at 17.

She traveled to New York for the New York International Ballet Competition, she prepared the test in a month a won the Silver Medal and the Igor Youskevitch award which implies a year of contract at the American Ballet Theatre.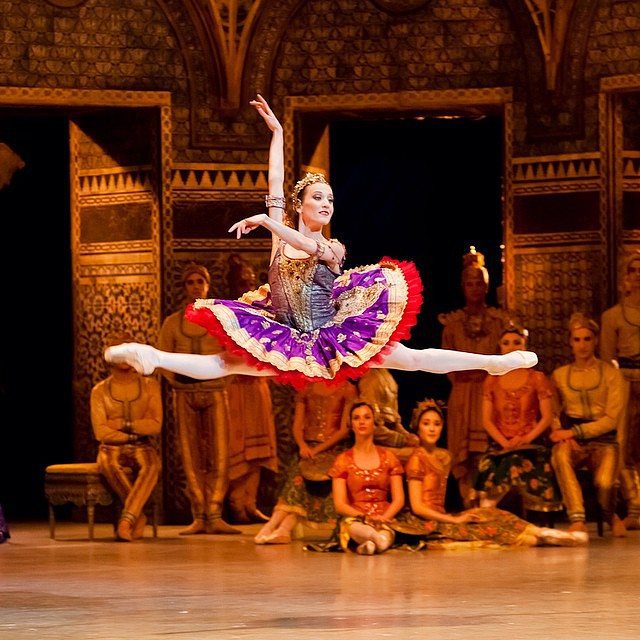 Anyway she decided to participate at the contest for the Paris Opera Ballet, with the intention of "To step once in my life the Paris Opera". Things were not easy, it was mandatory to prepare a scripted variation of Swan Lake, but she never received the video, so a good friend got a ballet dancer who shown her that variation in 15 minutes, that was all. There were two days before the competition, the first day Ludmila only found a slippery floor studio, and the following day it would be holidays, so no chances of practicing. Thanks of the good will of Laetitia Pujol (First dancer of the Company) she slipped into the Paris Opera and got precious 30 minutes for practicing. She kill the stress repeating to herself that ""No one in this place knows me, everyone will forget me in the next few days" It was not enough, she was rejected, but later they called Ludmila for a replacement and she never left Paris. In 2015 she was awarded as "Etoile", only 10 dancers of the 150 of the Company have that category.

Which are according to Ludmila Pagliero, the keys for being the best ballet dancer? In an interview given in occasion of her "Benois de la Danse" award she said

"A good dancer is a dancer with a lot of passion; A passion that leads him to surrender, in the search to improve and discover new things always, even in works he had already danced fifty times and continues doing them with the energy and the desire of the first time. It request passion as in life. I like to see a good artist, not an aesthetic or a technique."

Generously talking about a colleague "She enters the stage, and with her way of moving she takes you to an unknown world, her own. She has mystique. She is awesome. What I remember most in her The Swan Lake is his gaze, more than his arms and legs."



"In the moment of adrenaline, to go out on stage, I only fit into what needs to be done, I limit myself. Then: no matter what happens, even if I fall, I will let that madness flow that nourishes me with emotions. What sustains you in a work of more than two hours, with the physical fatigue and all that it entails, is not to raise the leg an inch less or more or to do one more pirouette."

She is currently doing a tour by Buenos Aires at Teatro Colon (I can tell you many stories about this wonderful not to miss place in my private tours) and also in Chile.

The amazing Ludmila Pagliero, best ballet dancer of the world, born in Buenos Aires.

References and pictures

Article: La Nacion
Picture: Instagram
Marta Minujin, and Argentinean "Classic" of Pop Art is re-launching her famous Parthenon done with banned books

The Argentinean Queen of Pop Marta Minujin is reinstalling one of her most rousing masterpieces of Ephemeral Art, a Parthenon done with banned books which are or were forbidden all around the world. It will be a structure of the same size of the real Greek Parthenon, 100 by 230 feet. There will be 100,000 banned literary works from all around the world hooked up to be released and sent to the public. The exhibition will be part of the vanguards art exhibition Documenta in Kassel city, Germany. The accurate place of this Parthenon of banned books will be at the Friedrichsplatz square, where in May of 1933 the nazis burned thousands of "non-german" books.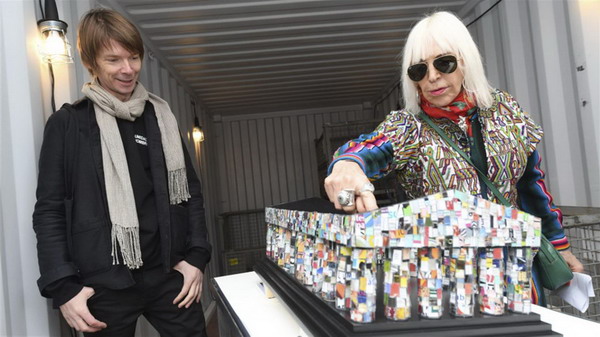 "The bad News is that there are 100.000 banned books around the world, the good News is that although that it is possible to still find them" said Adam Szymczik, the director of the exhibition.

The first Parthenon of books, between bullets and Democracy

Marta Minujin started her first Parthenon even before the return of Democracy in Argentina. She obtained sponsorship of the structural scaffolding company and the banned books which were hidden in warehouses or buried in different properties of the printing houses. So, without money and without permission, the huge structure started to be done in the corner of two important avenues (the famous 9 de Julio Av where the Obelisk is, corner with Santa Fe Av, the main artery of Retiro, Recoleta and Palermo).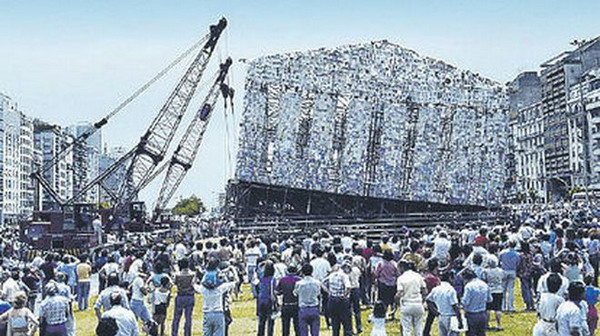 In this link you can see the video of the first Parthenon. There are also recognized writers stating that they also burned their libraries because of fear. In the minute 5.30 you can see how the police which was burning books months ago where now hooking off the copies which were set higher in order to assist an avid audience. That was literally a shower of books. Minujin and many others put their lives in risk for doing this evanescent piece of Art, which become a sample of civilian resistance and the first monument of our Democracy.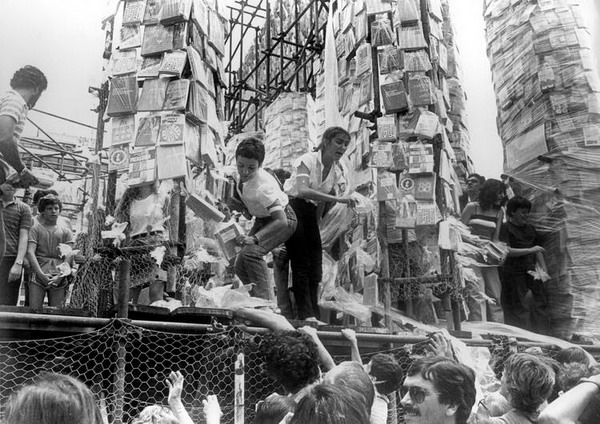 We can discover together the great Argentinean Art in my private art tour

References and Pictures
Article and pictures: Minujin with the scale model La Nacion
General view La Razon
Detail of public hooking up books: Clarin




















See other Suggested tours
Home
Go to News & Info of Buenos Aires
Ask for a Personal City Tour 
Customer References
Share this page with a Friend
Know more About Me
Important: This is a so complete and very useful site, don't lose anything, use the SITE MAP
...