Trusty and Nice for RENT
I have  my own appartment for rent, you can see it here and get the full information about it. In advance, the rate is incredible!! (Because you will not pay comission)

Location: Belgrano/Las Cañitas (Buenos Aires city)

Distances: 
10 minutes to Palermo
20 minutes to Downtown (Obelisk or Pink House)
25 minutes to San Telmo
30 minutes to Boca
30 minutes to Tigre
Access: Train, Subway, 7 bus lines, taxis

Rooms: 2 Rooms, 1 Living Room
Fully Equiped:

- Free Internet
- 2 Televisions, (1 is LCD)
- TV Cable
- DVD Player
- Hi Fi Music Player
- Phone-line
- Toaster
- Oven
- Refrigerator with freezer
- Microwaver
- Juicer
- Food Processor
- Air conditioning (2!!)
- Heater
- Towells, household linen
- Full kitchen equipment

FINAL PRICE Rates:
US$ 999 per month
US$ 399 per week
US$ 639 per half month

You may see other appartments at a lower rate, but you have to add a 10/15% of fee, in this case, you have nothing to add, because you are renting trough a real owner.

My Family and me will be carying you at any time, if you have any doubt, here I am!

Anyway, in this huge and cosmopolitan city you have a lot of options about appartments and neighbourhoods, so the key is
                     



What is my Added Value for you in helping you to rent in Buenos Aires?

First, I will never deliver you to a Rental Company that I wouldn't trust. I did a deep, serious research to find this Friendly company. I meet the owner, the employees and their background.

Second, You can ask me help, tell me your preferences, what are you looking for and I will assist you, at any time, all the times you need.

Third, I will offer you a nice discount on my services of private touring across the city what means you will be joined by a local dedicated to customize your tour to show you the Buenos Aires's secrets.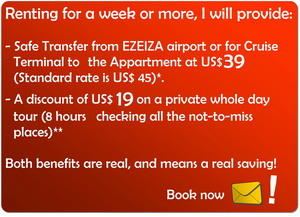 If you have any doubt, please writte me!

           












* Payable in cash in $Arg or US$ to the driver. Includes tickets, and parking rates.
** You will pay in each day of tour US$6 less.
to find those that best fits to your tastes, 
to rent at a reasonable price 
and dealing with the right person.